Mediterraneo, since 1998, adding value to your learning
OUR STAFF
Mediterraneo's staff is a unique blend of different personalities and cultural backgrounds.
Our team boasts a considerable experience in marketing, public relation, not to mention teaching Italian as a second language either in Italy or in foreign countries.
Additionally, the staff master other languages.
All this ends up in a team accustomed to work in an international and cosmopolitan environment, which is the way it should be for an educational institute attended by people coming from all over the world.

MANAGEMENT STAFF
Mediterraneo management staff is distinguished by a close –knit team of well experienced professionals who integrate proficiency, reliability and interpersonal skills.
The Director Dott.ssa Sabina Fusaro, who founded the school in 1998, runs Mediterraneo with enthusiasm and passion combining the know-how developed either in marketing or in teaching Italian as a L2.
This acquired competence translate itself in a well structured school whose small dimension ensures a genuine care to students and a high quality and tailored-made services.
TEACHING TEAM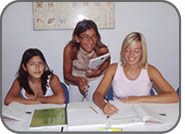 A close-knit team of motivated and fully qualified mother -tongue teachers distinguishes Mediterraneo. All of them have earned first degrees and some have master degrees in a range of area. Additionally they are specialized in teaching Italian Language and Culture to foreigners.
Their valuable experience combined with a genuine and active interest in students ' learning progress ensure the academic excellence of the courses.
Accustomed to continually encountering cultures different from their own, and fluent in at least two foreign languages, our teachers have developed a profound sensitivity to the linguistic difficulties that every student has in the course of learning Italian.
Endowed as well with great talents of communication, enthusiasm, creativity, teachers at Mediterraneo make classes clear, fun and efficient.