ITALIAN LANGUAGE INDIVIDUAL COURSES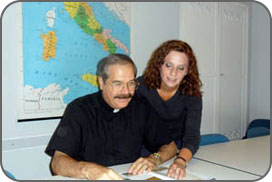 1 hour lesson € 36,00 1hr = 60' tuition!

The school offers packages of individual lessons (the greater the number of hours, the larger the percentage of discounts) that can be used whitin a month. The details of the program such as subject matter and lesson times are tailored to meet the students' needs.

Special package prices!
Lessons held at Mediterraneo
A single hour lesson € 36,00 1hr = 60' tuition!
Discounts are granted only in case of a one-solution payment in advance.
Lessons not cancelled within the 24 hrs are not reimbursed.
Prices do not include the enrolment fee.
Lessons are provided at student's premises (home, office, hotel) at a 15% extra cost.