OUR RELIGIOUS STUDENTS
The school Mediterraneo offers customized Italian courses to religious students.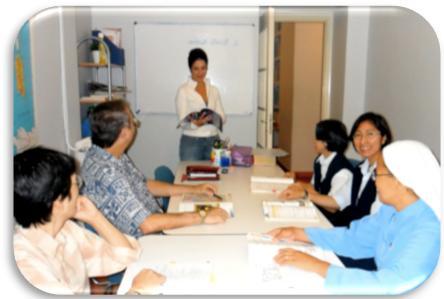 Our strenghts are:
Tailor made Italian courses
Preparatory Italian courses for the Italian entry test in the major Pontifical Universities
Test and Certification free of charge
Special discounts
Payment provided with an invoice.
Among our regular religious customers appear:
CONVENTO DEI SS. DOMENICO E SISTO
SOCIETA'SALESIANA DI S. GIOVANNI BOSCO
ISTITUTO SALESIANO DI S. CALISTO
SCALABRINI INTERNATIONAL MIGRATION INSTITUTE
ISTITUTO TEOLOG. SCALABRINIANO S. CARLO BORROMEO
ORDINE DEI CHIERICI REGOLARI DELLA MADRE DI DIO
SOCIETA' DI MARIA/PADRI MARISTI
CONGREGAZIONE DEI PADRI ROGAZIONISTI DEL CUORE DI GESU'
CURIA GENERALIZIA DEI PADRI ROGAZIONISTI DEL CUORE DI GESU'
CONGREGAZIONE RELIGIOSA CATTOLICA ROMANA SOCIETA' DI GESU' MARIA E GIUSEPPE
CONGREGAZIONE SORELLE DI GESU' BUON PASTORE PASTORELLE
MISSIONARIE DELLA SACRA FAMIGLIA
PROVINCIA ITALIANA MISSIONARI N.S. DE "LA SALETTE"
COLLEGIO MISSIONARIO A. ROSMINI
COLLEGIO MISSIONARIO FEMMINILE DI S. FRANCESCO D'ASSISI
ISTITUTO TEOLOGICO P. ROGAZIONISTI
COLLEGIO MARYKNOLL
SUORE DI S. CATERINA DI SIENA
CENTRO DI SPIRITUALITA' ROGATE
COLLEGIO S. ALFONSO DEI LIGUORI
ISTITUTO FIGLIE DEL DIVINO ZELO
ISTITUTO SAN CIRILLO E METODIO
COLLEGIO DI SAN NORBERTO
COLLEGIO INTERNAZIONALE DI S. ALFONSO
Etc.
To ask information about the SPECIAL DISCOUNTS FOR RELIGIOUS STUDENTS, please contact the director Dott.ssa Sabina Fusaro, indicating the Order, Congregation or Pontifical Institute you belong to : info@mediterraneoschol.com.
We will be pleased to meet your needs.