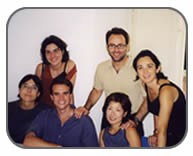 OUR MISSION
Mediterrane o meets the growing worldwide interest in the Italian language and cultural heritage.
Our approach is based on gaining a deep understanding of the needs and objectives of our students in order to offer them the appropriate course.
Our mission is to create a relaxed but intensive atmosphere, in which each of our students can gain both confidence and competence.